When you think "makeup artist," you might imagine lipstick and eyeshadow, but remember that artists can do anything from wedding makeup to special makeup effects for movies. So whether you want to pretty up a bride or turn someone into an alien, here are some of the signs you're ready for it.
1. You Judge Someone's Competency Based on their Brow Grooming Habits
Sure, he might be a great dentist – but does he even wax?
2. You Could do a Cat Eye in a Stage Four Hurricane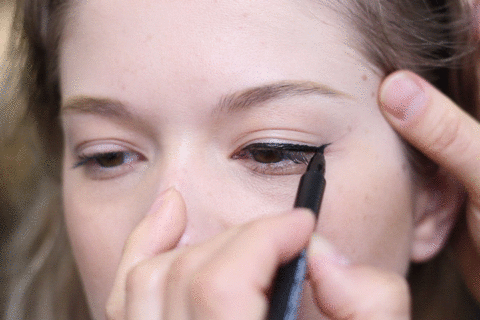 Because everyone who loves makeup knows that perfecting the cat eye is achieving cosmetic nirvana.
3. Your Rent is Late, but You Have All Three Naked Palettes
Woah, not buy Urban Decay? What are you, an animal?
4. You Can't Find a Pen in Your House, but You Have 37 Makeup Brushes
And they all have names. Hey, Mavis.
5. You Leave No Sample Unsampled at Sephora
Mini lipsticks? How do you say no to that?
6. You Constantly Give Everyone Makeup Tips
Because you love your mom, but you'd love her more if she contoured her cheekbones.
7. You Consider $60 Blush an "Investment"
Luckily, if you're a makeup artist, you can tell everyone it's for your job.
8. Trying to Decide Between Makeup and Breakfast is Your Daily Version of "The Hunger Games"
Waffles are important, but are they as important as perfect bronzer? Only you can know for sure.
Obviously a deep and abiding love for makeup is a great step toward becoming a makeup artist, but don't forget that makeup artists are just that: Artists. If you're obsessed with color, art and transformation, what better place to start than the human canvas?
Brush on, my friends.
PS Interested in becoming a makeup artist? Here's a path that might work for you
By Jae — Head Gamemaker
---
Hey! If you liked this, enter your email below and we'll send you helpful career advice directly to your inbox. No spam. Neverever.

Sign up for Raise Your Flag to explore awesome careers and find a job you can have without a degree or diploma.